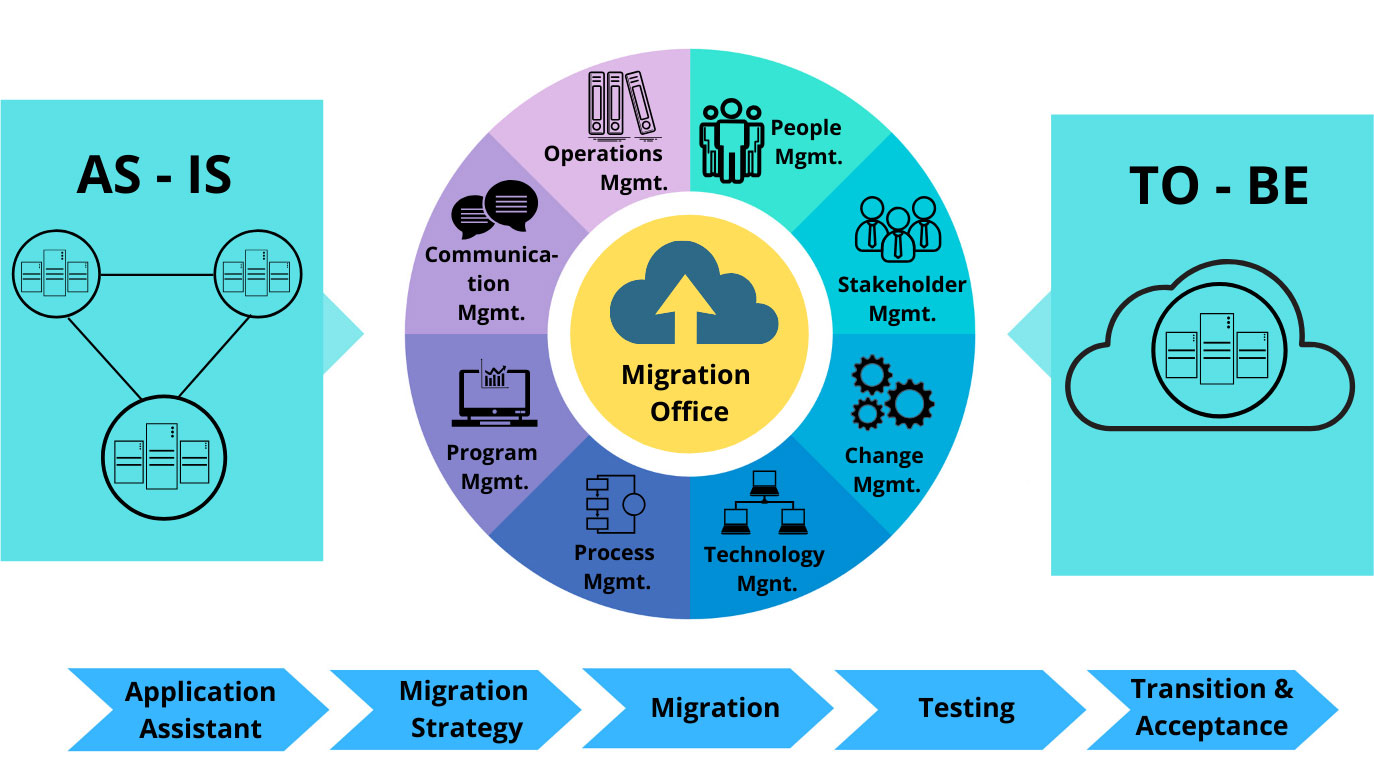 The Migration Office provides the framework for Cloud Migration. A typical migration approach starts with application assessment, migration plan/strategy, progresses to the actual migration, testing and finally transition, acceptance. Our Customer Success Center extends the Migration Office for seamless release transition/cutover to production and faster releases.
Migration Strategies
The migration is guided by the blueprint & journey map. Key activities include garnering stakeholder support, selection of pilot projects, creation of a functional staging environment, orderly movement of services, data & system integration and a strong financial model to support the migration.
Rehost: Migration that involves only 'Lift & Shift' of the existing system
Refactor: Integration between apps/products either across clouds or between cloud and on-prem
Replace: Provisioning of COTS e.g. SaaS
Rebuild: Rearchitect, redesign, refactor, integration between apps/products
Key Functions of the Migration Office – Management of the following
Communication: Focus on project charter, seamless knowledge sharing and best practices from other engagements
Operations: On-time project execution within budget using multiple functions spread across locations
People: Collaboration involving multiple stakeholders driven by pre-defined responsibility matrix
Stakeholders: Platform to onboard multiple stakeholders to achieve the desired target state
Change: Assurance to business during the transition viz user experience, availability; Types of data migration, data synchronization techniques adopted; Tools adopted for change management, zero down time – zero data loss in migration; Roll-over/roll-back/sign-off process
Technology: Types of SaaS, PaaS availability for the target cloud; Data cleansing, data cleaning &  data synchronization; Connection of CI/CD/CT process as part of release and day-to-day operations; Tool-kits & templates for version upgrades, patch management, OS upgrades before readying them for cloud migration
Process: Reference for choosing the right processes & procedures for migration, transition, end-of-life
Program: Responsible for the overall governance, project execution, performance metrics & audits