Scientific progress is about many small advancements and occasional big leaps. Medicine is no exception. In a time of rapid healthcare transformation, health organizations must quickly adapt to evolving technologies, regulations, and consumer demands. Since the inception of electronic health record (EHR) systems, volumes of patient data have been collected, creating an atmosphere suitable for translating data into actionable intelligence. The growing field of artificial intelligence (AI) has created new technology that can handle large data sets, solving complex problems that previously required human intelligence. AI integrates these data sources to develop new insights on individual health and public health.
Highly valuable information can sometimes get lost amongst trillions of data points, costing the industry around $100 billion a year. Providers must ensure that patient privacy is protected, and consider ways to find a balance between costs and potential benefits. The continued emphasis on cost, quality, and care outcomes will perpetuate the advancement of AI technology to realize additional adoption and value across healthcare. Although most organizations utilize structured data for analysis, valuable patient information is often "trapped" in an unstructured format. This type of data includes physician and patient notes, e-mails, and audio voice dictations. Unstructured data is frequently richer and more multifaceted. It may be more difficult to navigate, but unstructured data can lead to a plethora of new insights. Using AI to convert unstructured data to structured data enables healthcare providers to leverage automation and technology to enhance processes, reduce the staff required to monitor patients while filling gaps in healthcare labor shortages, lower operational costs, improve patient care, and monitor the AI system for challenges.
AI is playing a significant role in medical imaging and clinical practice. Providers and healthcare organizations have recognized the importance of AI and are tapping into intelligence tools. Growth in the AI health market is expected to reach $6.6 billion by 2021 and to exceed $10 billion by 2024. AI offers the industry incredible potential to learn from past encounters and make better decisions in the future. Algorithms could standardize tests, prescriptions, and even procedures across the healthcare system, being kept up-to-date with the latest guidelines in the same way a phone's operating system updates itself from time to time.
There are three main areas where AI efforts are being invested in the healthcare sector.
Engagement – This involves improvising on how patients interact with healthcare providers and systems.
Digitization – AI and other digital tools are expected to make operations more seamless and cost-effective.
Diagnostics – By using products and services that use AI algorithms diagnosis and patient care can be improved.
AI will be most beneficial in three other areas namely physician's clinical judgment and diagnosis, AI-assisted robotic surgery, and virtual nursing assistants.
Following are some of the scenarios where AI makes a significant impact in healthcare:
AI can be utilized to provide personalized and interactive healthcare, including anytime face-to-face appointments with doctors. AI-powered chatbots can be powered with technology to review the patient symptoms and recommend whether a virtual consultation or a face-to-face visit with a healthcare professional is necessary.
AI can enhance the efficiency of hospitals and clinics in managing patient data, clinical history, and payment information by using predictive analytics. Hospitals are using AI to gather information on trillions of administrative and health record data points to streamline the patient experience. This collaboration of AI and data helps hospitals/clinics to personalize healthcare plans on an individual basis.
A taskforce augmented with artificial intelligence can quickly prioritize hospital activity for the benefit of all patients. Such projects can improve hospital admission and discharge procedures, bringing about enhanced patient experience.
Companies can use algorithms to scrutinize huge clinical and molecular data to personalize healthcare treatments by developing AI tools that collect and analyze data from genetic sequencing to image recognition empowering physicians in improved patient care. AI-powered image analysis helps in connecting data points that support cancer discovery and treatment.
Big data and artificial intelligence can be used in combination to predict clinical, financial, and operational risks by taking data from all the existing sources. AI analyzes data throughout a healthcare system to mine, automate, and predict processes. It can be used to predict ICU transfers, improve clinical workflows, and even pinpoint a patient's risk of hospital-acquired infections. Using artificial intelligence to mine health data, hospitals can predict and detect sepsis, which ultimately reduces death rates.
AI helps healthcare professionals harness their data to optimize hospital efficiency, better engage with patients, and improve treatment. AI can notify doctors when a patient's health deteriorates and can even help in the diagnosis of ailments by combing its massive dataset for comparable symptoms. By collecting symptoms of a patient and inputting them into the AI platform, doctors can diagnose quickly and more effectively.
Robot-assisted surgeries ranging from minimally-invasive procedures to open-heart surgeries enables doctors to perform procedures with precision, flexibility, and control that goes beyond human capabilities, leading to fewer surgery-related complications, less pain, and a quicker recovery time. Robots can be developed to improve endoscopies by employing the latest AI techniques which helps doctors get a clearer view of a patient's illness from both a physical and data perspective.
Having understood the advancements of AI in various facets of healthcare, it is to be realized that AI is not yet ready to fully interpret a patient's nuanced response to a question, nor is it ready to replace examining patients – but it is efficient in making differential diagnoses from clinical results. It is to be understood very clearly that the role of AI in healthcare is to supplement and enhance human judgment, not to replace physicians and staff.
We are fully equipped with cutting edge AI technology, skills, facilities, and manpower to make a difference in healthcare.
Following are the ongoing and in-pipeline projects that we are working on in healthcare:
ONGOING PROJECT: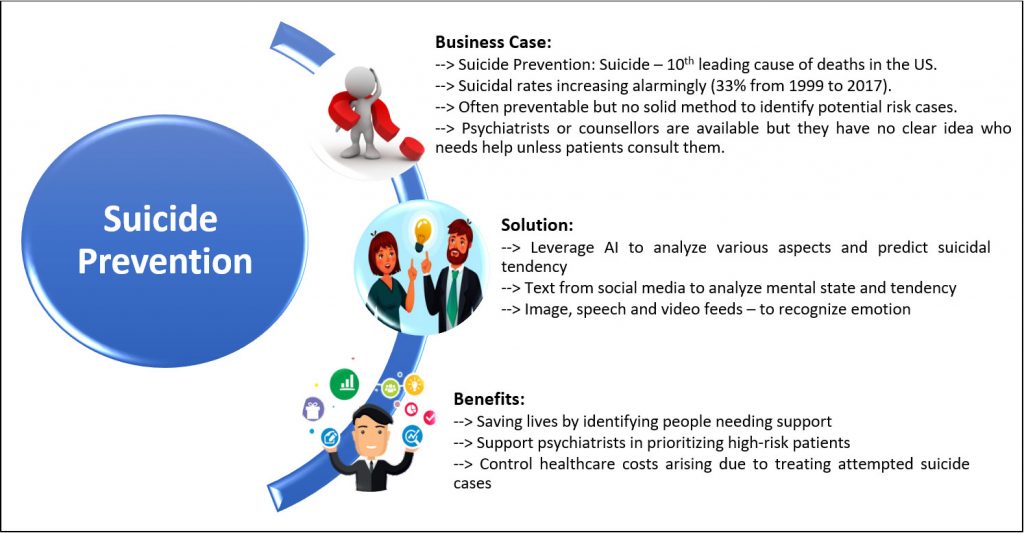 PROJECTS IN PIPELINE: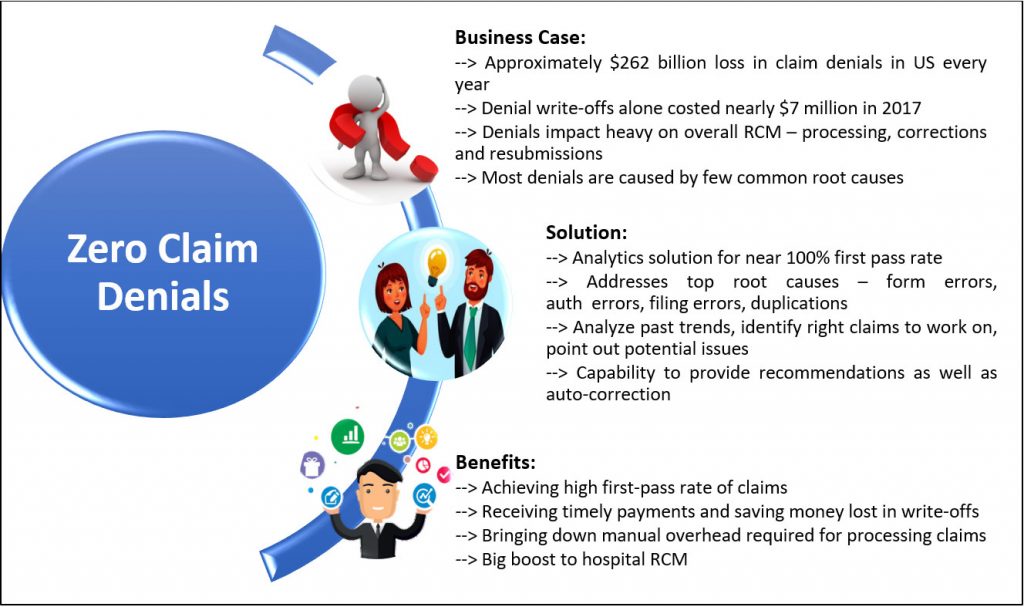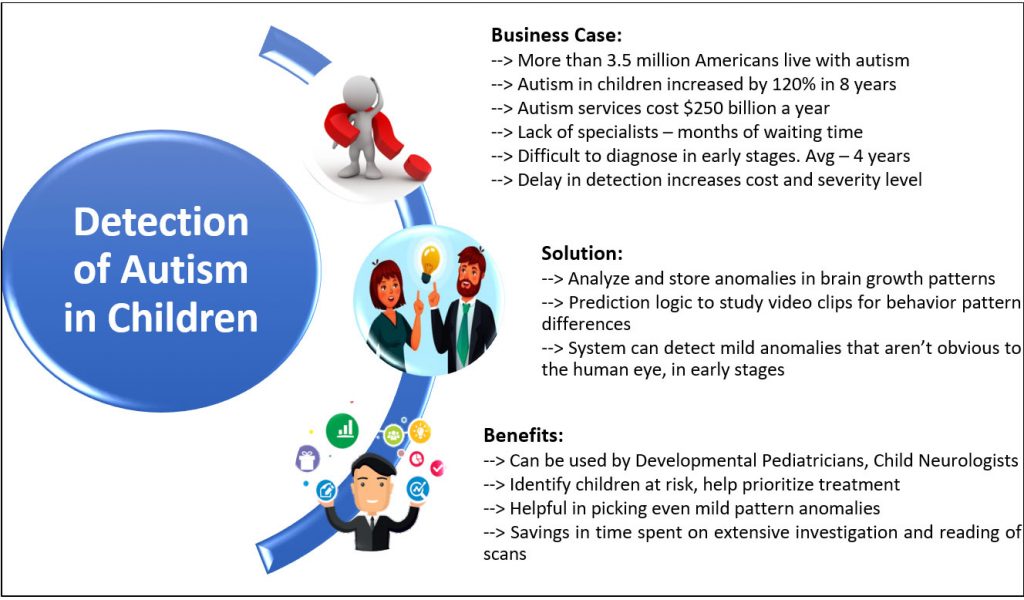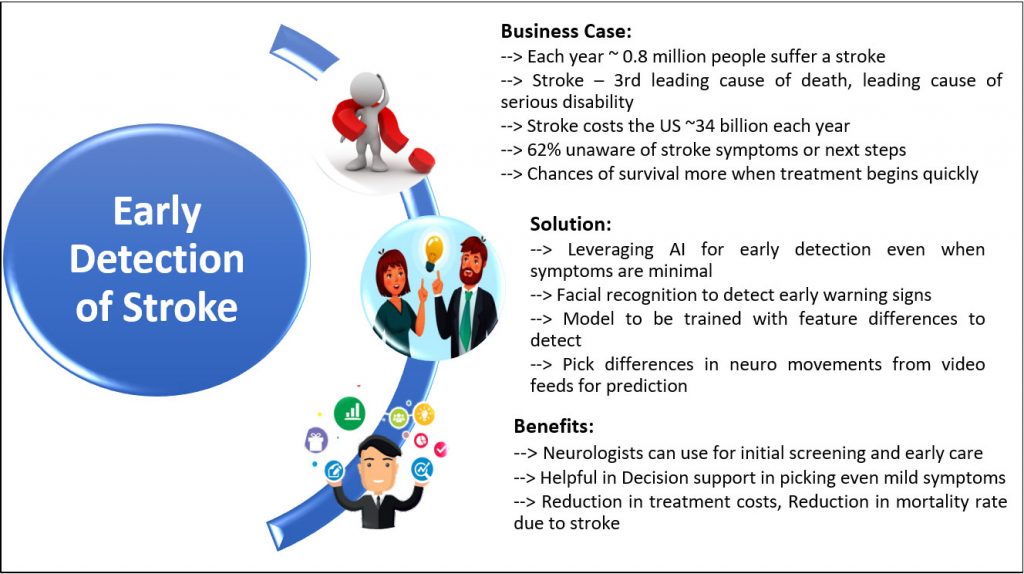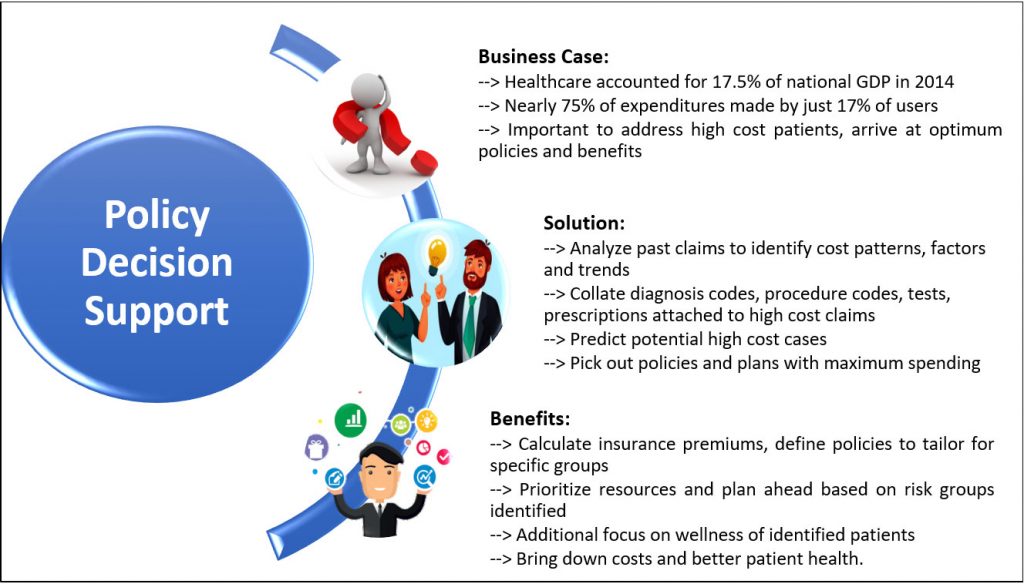 Following are the projects that are being planned:
Controlling Alcohol Abuse
Management of Opioid Addiction
Pharmacy Support – drug monitoring and interactions
Reducing medication errors in hospitals
Patient Risk Scorecard
Patient Wellness – Chronic Disease management and monitoring
In conclusion, it is evident that the Advent of AI in the healthcare domain has shown a tremendous impact on patient treatment and care. For more information on how our AI-led solutions and services can help your healthcare enterprise, please reach out to us here
About the Author –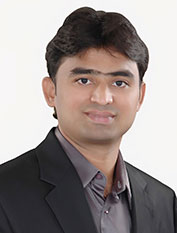 Dr. Ramjan is a Data Analyst with a Doctorate degree in the field of Pharmacy. He is passionate about drawing insights out of raw data and considers himself to be a 'Data Person'. He loves what he does and tries to make the most of his work. He is always learning something new from programming, data analytics, data visualization to ML, AI, and more.
Back to blogs