2021 proved to be a yet another challenging year for Cybersecurity with ever increasing incidents. Log4j vulnerability kept almost all the organizations on their toes. A vulnerability in Log4J allowed malicious attackers to execute the code remotely and take control of the application. Solarwinds, Kaseya and Microsoft Exchange are some of the worst cyberattacks that happened in 2021. This resulted in the compromise of over 280+ million users' personal information. 2022 is no different, Lapsus$ hacker group has already hacked into Okta, Microsoft, Samsung etc. Okta claims that no attackers ever gained access to its overall system but over 366 customers got affected due to this incident. The average cost to address Cyber incidents in organizations has increased to over 8 million USD. More than 60% of the organizations feel that they are not adequately staffed or equipped to handle cybersecurity incidents. Over 75% of the organizations consider cyber risk as a top concern and it is always highlighted in their board level discussions.
Organizations should focus on the following areas to protect themselves against the cyberattacks –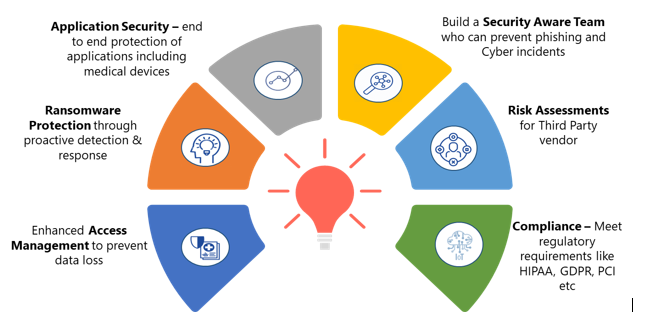 At GAVS, we recognize and realize the importance of Cybersecurity challenges and focus areas of organizations. We have created the following customized solutions to address these challenges.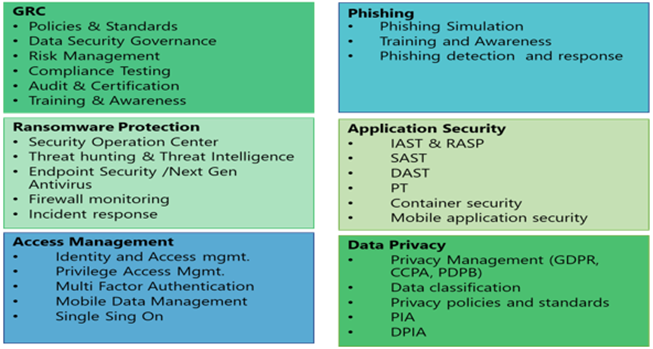 Here is our approach to implement the solutions that we have identified –
GRC & Privacy: Implement eGRC which is a workflow based solution to proactively monitor and remediate issues. Centralize vendors inventory and keep a tab on their security posture. Guide the audit team with the recommendations and summarized evidence and findings. Meet all the organization's compliance and privacy requirements and have a complete dashboard view in a single pane of glass.
Application Security: With the wide adoption of DevOps, multiple features are released in days instead of months. It is highly critical to move away from traditional approaches such as SAST and DAST which consume more time and hence delay the production deployment. We help organizations transform their DevSecOps by bringing in tools like IAST and RASP which are highly context aware and therefore identify and protect vulnerabilities immediately.
Access Management: Organizations no longer procure, deploy and configure access management in their on-premise datacenter. With the adoption of cloud and increased usage of SAAS based applications it is more important to enhance the access management solution, which is simple to integrate, highly secured with MultiFactor Authentication and connected to various identity providers.
Phishing Simulation: Conduct an automated Phishing simulation to the entire workforce accessing the organization's IT systems to identify associates who provide their credentials. Conduct a focused training and awareness program for those vulnerable groups to reduce the susceptibility rates.
Ransomware Protection: Deploy and automatedly manage server, network, endpoints to detect and remediate any suspicious activities happening in the environment. Implement Zero Trust security model which will give adequate protection even if the hacker has got into the organization's network. The guiding principles of Zero Trust will ensure security across all entities such as identity, data, endpoint, application, infrastructure, and network by always verifying the user before allowing access.
For more information on GAVS' cybersecurity offerings, please visit – https://gavstech.com/service/security-services/
About the Author –

Kannan Srinivasan
Kannan has over 21 years of experience in Cybersecurity and Delivery Management. He is a subject matter expert in the areas of Cloud security, infra security including SOC, Vulnerability Management, GRC, Identity and Access Management, Managed Security Services. He has led various security transformation engagements for large banks and financial clients.
Back to blogs