As the pandemic started shutting down offices almost all over the world, zDesk ensured business continuity of our clients through remote access to desktops/laptops on other devices (any RDP capable device).
Desktop virtualization continues to be a complex and expensive proposition for organizations. We wanted to challenge the status quo. zDesk was thus conceived.
zDesk is a simple-to-deploy, hardware agnostic, desktop virtualization platform that enables a secure and unparalleled end-user experience. It is an 'all-inclusive' virtual desktop infrastructure (VDI) solution – i.e. the core components, like the hypervisor, connection broker, orchestration, management and control layer are in-built in this platform.
In a typical legacy VDI solution, these components are not integrated and are part of a multi-layer architecture. They require dedicated hardware for management layer, separate installations for feature management, and involves the complexities of licensing the different modules. Not only is this expensive, but also calls for a specialized team to manage the full-blown VDI stack.
With zDesk, we are eliminating all these layers through a simple 'zero layer' architecture. There are no third-party vendors and/or software providers required. This dramatically alters how you are engaging with the VDI solution. It is also the industry's only in memory VDI solution – run on RAM for exceptional performance and user experience.
zDesk Stack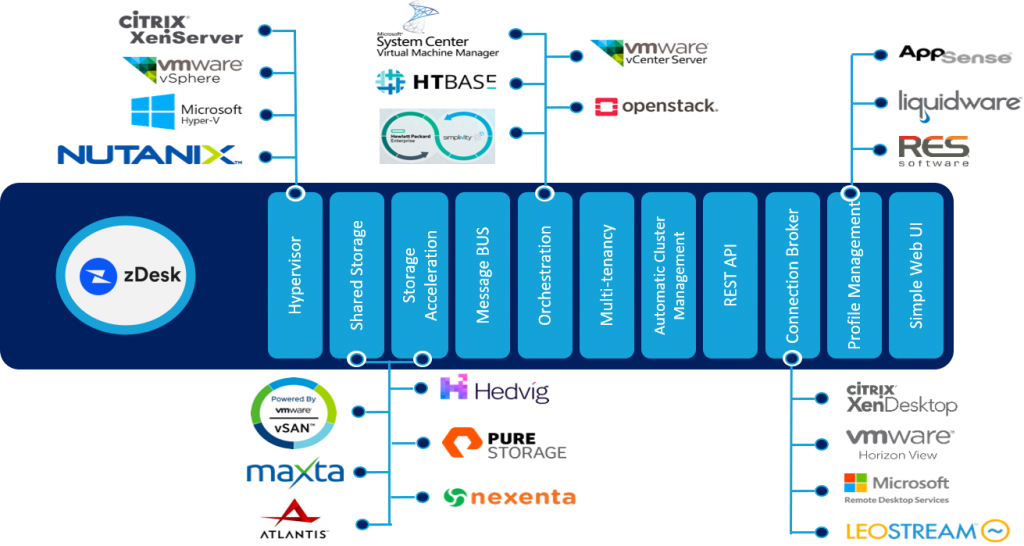 Another departure from other VDI solutions, zDesk's interface is completely visual, that delivers information to the end-user most efficiently.
It is a customizable platform. There is a zDesk flavor exclusively focused on the healthcare portfolio. It has predefined healthcare specific user controls and policies that protects sensitive data. It is HIPAA and HITECH compliant as well.
We have layered a managed services offering around this solution and offer zDesk as a Desktop-as-a-Service (DaaS) model. We focus on an opex based, pay-as-you-go model with flexible deployment options either on premise or on cloud.
Client Experiences with zDesk
At BronxCare Health System, a not-for-profit healthcare system in New York, zDesk was adopted to address 3 big problems:
Thousands of ageing desktops that broke down frequently
Security risks arising from a generic login to the system
Poor user experience of hospital staff
According to their CIO, zDesk was a blessing during the peak of the pandemic, as it requires little maintenance. zDesk was also able to deliver tremendous performance improvements in systems.
At Premier Inc., one of the larger healthcare improvement companies in the US, zDesk replaced the legacy VDI solution to resolve the following issues:
Performance and availability issues
Mounting productivity issues resulting in financial impacts
Mandate to move processes offshore
According to their Director of Technology Services, the fact that no dedicated staff was required to maintain it and that it enabled them to reside within their own data center tipped the scale in zDesk's favor.
zDesk has also addressed the security concerns and healthcare industry requirements. For instance, a client that collects massive amounts of healthcare data for development and data processing were able to secure the sensitive data. They were also equipped to provide secure access to email and other applications to new employees, an imperative as they had gone through two acquisitions during the pandemic.
Here's how our clients realized cost benefits through zDesk:
VDI adoption led to reduced infrastructure costs
Almost no moving parts mean reduced chances of failures
Simplified infrastructure and increased user density per server reduce the total cost of ownership
Reassigning full time staff to handle other responsibilities, eliminating resource-related costs
Security assurance through zDesk's monitoring
Evolving Healthcare Industry
The COVID pandemic has ushered in a whole new world of telehealth and now has the support of governments and insurance companies as well. VDI is also enabling remote monitoring of patients in isolation wards. Digital Transformation in Healthcare has been accelerated by the pandemic and is likely to change the face of the industry as we know it. VDI platforms are going to be a trusted ally in this digital transformation journey and beyond.
Experience zDesk – https://long-80.com/experience-zdesk/
About the Author –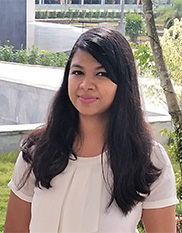 Soumika Das
Soumika is the editor of the enGAge magazine and is youngest member of the Marketing team at GAVS. She is passionate about gardening and spends her free time listening to podcasts and reading Indian history.
Back to blogs